News
News
CCYR & Wooden Boat. Cool stuff.
Posted On:
May 25, 2023
WoodenBoat – Official magazine of the CCYR!
WoodenBoat – Official magazine of the CCYR
As a longtime supporter of the Corinthian Classic Yacht Regatta – and of wooden and classic boats, obviously – we welcome back WoodenBoat for 2023.
They've been busy over the off-season designing and preparing new wear and gear that we're sure you'll love. Check out their latest!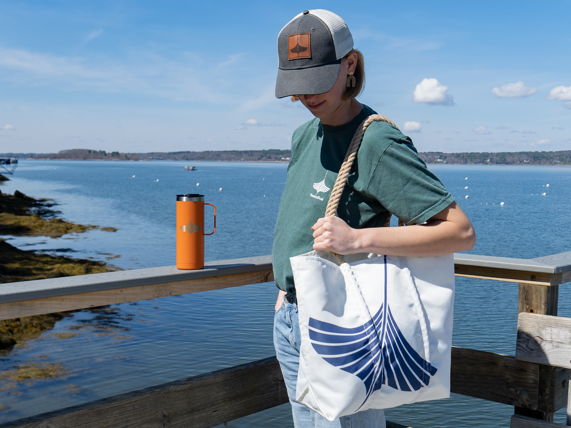 Once a Sail, Forever a Sea Bag.
Our friends and sponsors at WoodenBoat report that their WoodenBoat Store is now offering a high-quality boat tote handmade in Portland, Maine, by Sea Bags. It's of medium size and made of recycled sail cloth and hemp-colored rope handles (see photo). Also pictured is their new rugged tumbler from Rctic; it's made of 18/8 stainless steel, is double-wall insulated, and has a powder-coat finish. The bottom is designed to fit in most vehicles'—and boats'—cup holders. Also new to their lineup, and shown in the photo, is a premium trucker cap made by Rogue Life Maine.
For more details on WoodenBoat's newly expanded offering—including a line of Myerchin rigging knives, visit www.woodenboatstore.com.
The shirt pictured here is WoodenBoat's classic small-logo tee, available in denim blue, glacial green, wild berry, and spruce green.